Technique Services
The grounding  technique construction of  LSG PROTECT, serving for customer demands has formed a full lifespan technique service chain.
The Requirements of Grounding System
Grounding is used to connect a part of the equipment at some point of the system to the earth. It mainly provides a current leaking passage and reference datum. According to its function, Grounding is required to:
Protect building from lightning strike.
Avoid static calculated to result explosion.
Release the short-circuit current, keep equipment's and people safety.
Provide a 0 potential point or circuit logical reference point for Safety Operation.

 

Reasonable design, indicators can meet the operational requirement.
Electrically connected, network integrated, form a good electric channel.
Thermal stability of short-circuit.
The stability of full life span.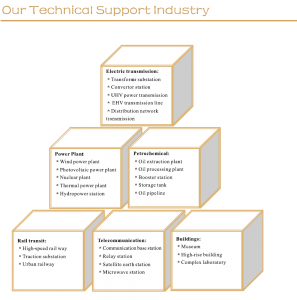 A GENERAL SYSTEM FOR GROUNDING & OUR TECHNICAL SUPPORT INDUSTRY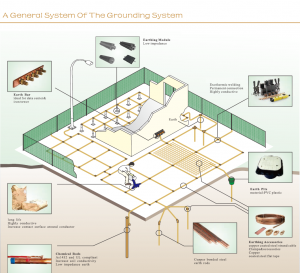 PRODUCTS
Our INGRESS range of electrical earthing systems are designed for applications operating at relatively low frequencies and have driven the use of increasingly sophisticated technology, including specialist software, to determine ground resistivity, improve design and measure system performance.
Modern earthing techniques used by LSG meet all the relevant French and International Standards and IEEE80-2000 guide for safety in AC Substation Grounding. Our electrical earthing systems will capture and disperse electrical current so that the site remains safe at all times.
We have wide range of products which include LSG Ingress low resistivity earthing mix, Copper Earthing Electrodes and Rods, Equipotential Bonding Devices, Earthing Clamps and Accessories, Earth Pit Chambers, Earthing bus bars, Earthing Strips and Coils.
The Grounding System Achievements
(a) Earthing Grid Corrosion Detection System.
Features:
(1) Active measurement: By the theory of puncture current limiting and ring electrode current constraints, detect the real corrosion speed at any time instead of the analog measuring through test fim.
(2) Data stabilization: Building integer algorithm with alternating-current impedance, good ability at anti-electromagnetic interference and AC interference.
(3) Networking transmission: By multi-channel data acquisition and transmission technology, detect the grounding grid.
(4) Pre-alarm: According to the grounding material, operation duration and corrosion status to check the system and make pre-alarm
(5) Data Analysis: Analyze the acquisited data, to provide the basic data for accident.
(b) Scientific research
We have established strategic partnership with research institute and universities in new technology of lightning protection and grounding industr. New materials and new product development includes scientific research task declaration and research-oriented contrition:
► Diagnosis of grounding grid corrosion status at transformer substation.
►Diagnosis measurement to regional soil resistivity and distribution character research.
► Transient-electromagnetic-method based grounding-based inspection and fault new technology research.
► Multi-dimension check to satisfy the security feature of grounding equipment and evaluation system research.
►Measurement technique research of grounding grid impact performance of true type substation, soil parameters and spark discharge model research.
► Integrative test to the impedance of common grounding equipment.
► Fault positioning system by lightning strike on the 10KV overhead line of distribution network and lightning probability analysis.
► System research about integrated lightning protection technique of distribution network based on the risk of line.
►The improvement research about the ground resistance of transmission line at plateau section.
► Validity and applicability study of grounding grid resistance deduction at transmission station.
►Corrosion and protection study about grounding materials for the transformer substation in the acid soil.
► The application and study about transmission line tower grounding technique at high resistivity and easy-corrosive district.
► The process of environment-friendly and better-binding copper bonded steel.
► The development and key technique of carbon nano tube grounding module.
► The manufacturing and processing of metal and non-metal covering grounding materials.
► The manufacturing process of graphene compound grounding electrode.
EARTHING TESTING